This guide contains information that no longer applies to the current version of Voyage Century Online. It is provided only for historical purposes.

As of version 0.113? (v. 112 February 2014), its no longer possible to dye hull and sails!
This Guide gives you information on sail and hull dying.



The level of the canvas used for sail dying must be equivalent to the level of the ship. (Except for the level 11 battleship ship. Uses no canvas)
Canvas can be found in drifters, wreckage drifters or other players may sell them.
Hull dyes will stay forever. Sail dyes go away after each upgrade. TIP-For those new folks that still have level 1 or 2 ships. Paint your hull now, as you can see it will save a fortune since the hull color stays forever, unlike the sails.-Lone1
ALL (lol) level 9 Battleships and Dragon Head Gunboats have a rectangular type of sail.
PRICES:

Paint- $80,000
Dye- $5,000
ALCHEMIST/ ITEM SHOP:
Athens- Red Dye
Alexander- Red Dye
Beirut- Blue Dye
Istanbul- Blue Dye
Tortue- Black, White, Yellow Dye, Paint
Algiers- All Dye, Paint
Seville- All Dye, Paint
Hamburg- All Dye, Paint
Muscat- All Dye, Paint
Quanzhou- All Dye, Paint
Zhigu- All Dye, Paint
Seoul- All Dye, Paint

CITIES:
All cities that have shipyard bosses dye hull and sails
_________________________________________________________________________________
HULL
SAIL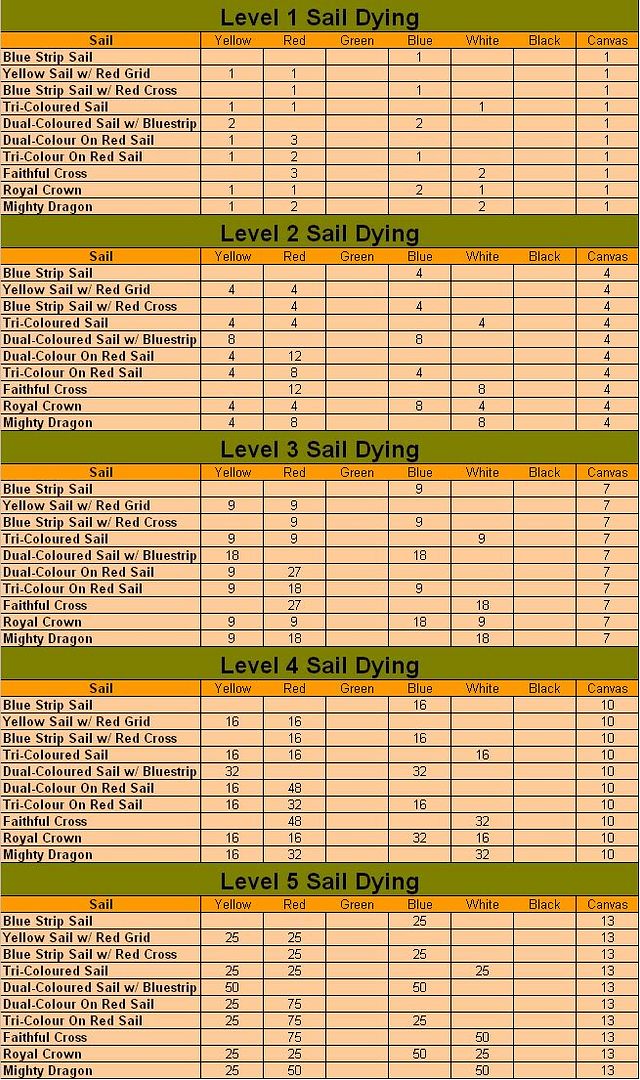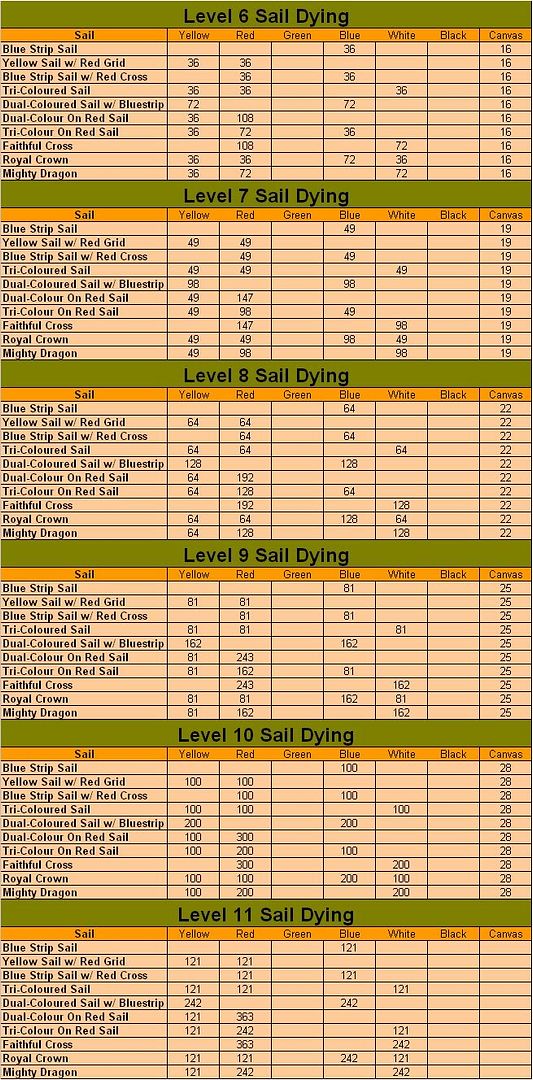 RECTANGLE SAIL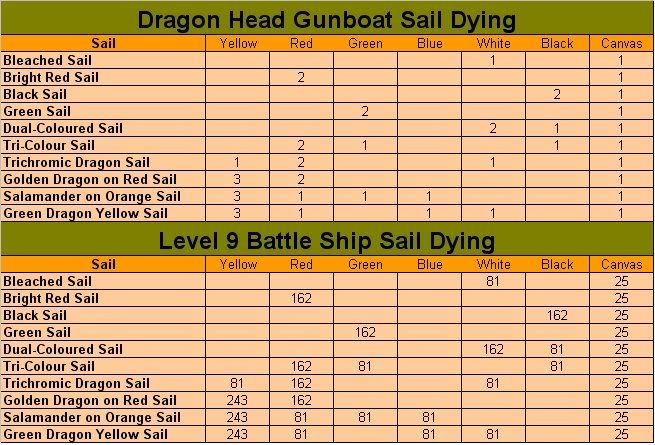 Visuals
-by Rashika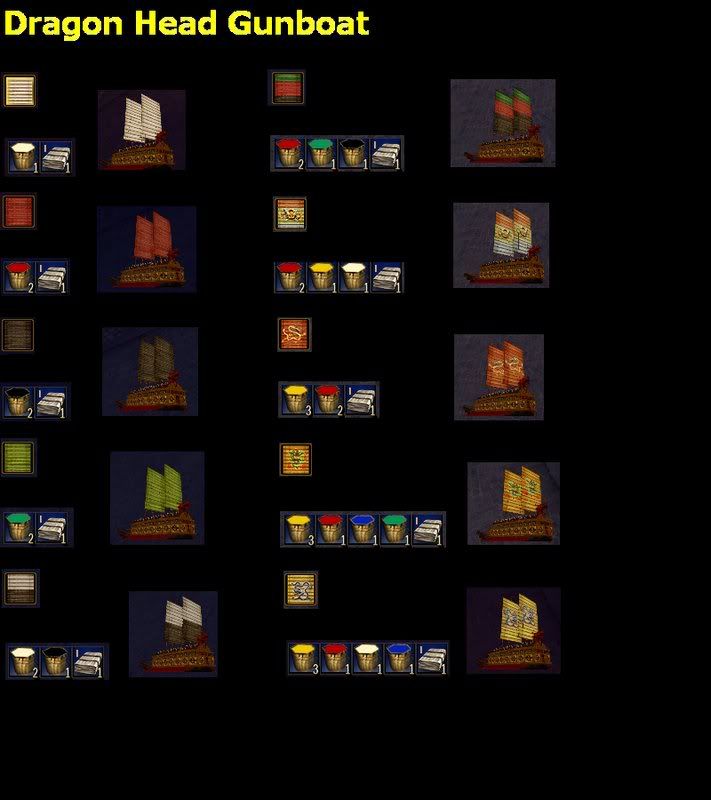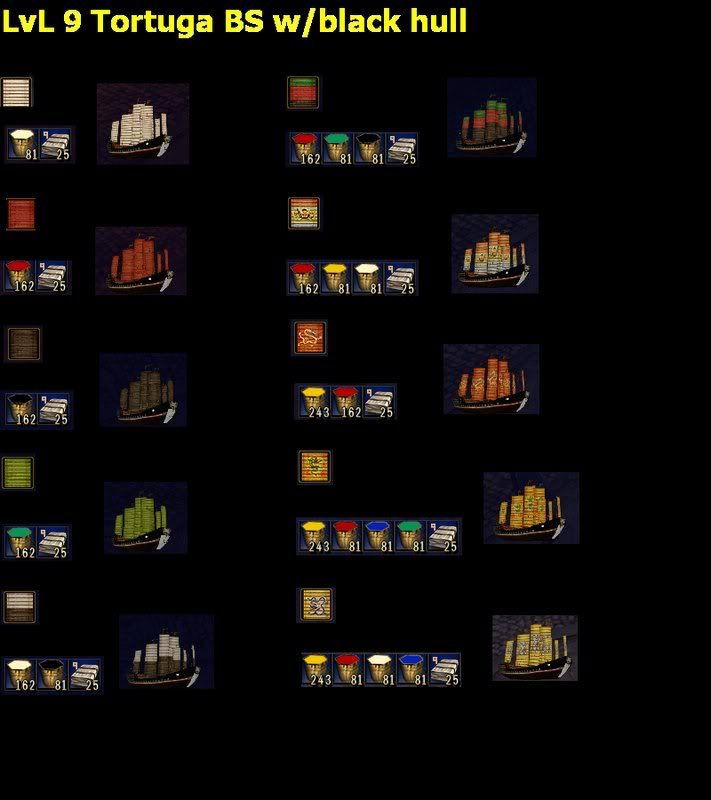 ...More to comef45
Any information I may have missed, got wrong or didn't know is greatly appreciated. /f51 Thanks to Typhoeus, Rashika, SasNut, ivel_attaq, Admiral_Vladimir, Wilkie, Revexe and iconized for giving me all the information and answering all my questions.f00
[
Last edited by DSOFA at 2014-9-29 22:23
]